Little Dove Crochet Blogs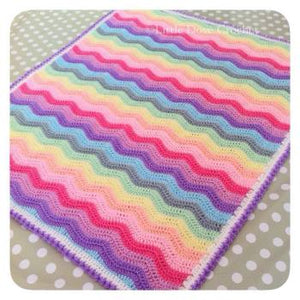 Towards the end of last year I was asked to make a pair of blankets for twin girls - she wanted them similar but different! My customer and I decided on a pastel rainbow colour scheme for both but in different styles.......ripple and shell. I won't lie, it took me ages to put the colours together in the order that looked right, chopping and changing different ones, adding, removing, going back to the original order and even now if I made another I might alter the scheme slightly!    Again you'll have to appreciate that this was quite a while...
---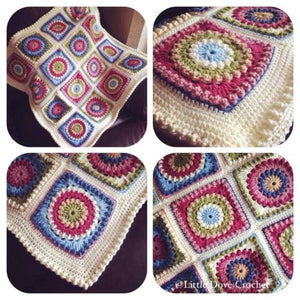 Circle of Friends Blanket I've been trying to decide which blanket to share with you next - there have been so many! I thought I'd go back to last summer, last July, when I made this blanket using the Circle of Friends square by Prisilla Hewitt. She is my favourite designer and been around for years producing beautiful patterns and sharing lots of them for free on her website as well as some lovely paid for patterns too, I have several I still want to try.         It was over a year ago now I made this,...
---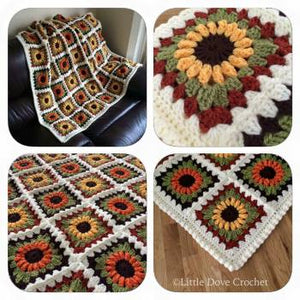 This blanket is based on Tillie Tulip's daisy square however I have increased the number of petals from 12 to 16 by starting with 16 stitches in the first round instead of 12. You can find the original pattern for the daisy square on Tillie Tulip's blog www.tillietulip.blogspot.co.uk I used a mixture of aran weight and double knit weight yarn but you could use whichever weight yarn you wanted. I think I may have used a 5mm hook for this but remember that hook size will depend on your own natural tension, some would find this size hook makes their...