Little Dove Colour Combos
• crochet blanket • granny square • petal edging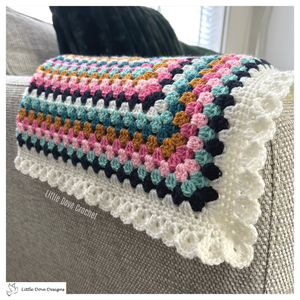 I primarily made this blanket to showcase my petal edging which I designed way back in 2015, you can read how it came about here. It reminds me of little petals and really suits a traditional style crochet blanket like the granny square one that I have made here.  I can't give you any meaningful reason why I chose these colours! I was just playing around with yarn pegs and these ones just seemed to work.....I really love the pop of the gold colour in amongst the pinks and greeny blues! The dark navy was a bit of an afterthought,...
---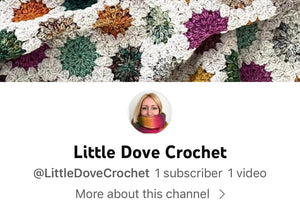 If I had a £1 for every time I've been asked if I had a You Tube channel………! Well I'm pleased to announce to you that at long last I have finally set a channel up!  As you and I both know You Tube is bursting at the seams with crochet tutorials and this is one of the (many) reasons I hadn't taken the plunge before……I didn't think I could really bring much more to it that wasn't already there.  Another reason has been time. With a young daughter and my needlecraft design business I haven't really had the spare...
---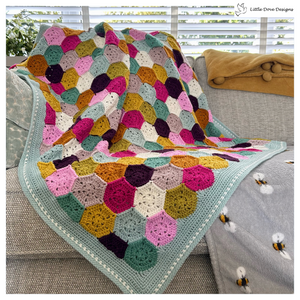 I've been wanting to make the Weekender blanket (pattern by Cherry Heart designs) ever since I saw the one made by fellow crocheter, Sarah, many years ago. Sadly Sarah passed away in 2015, I think about her often especially this time of year and I will forever be inspired by her colourful crochet and grateful to have known and interacted with her albeit only through socials.......she was incredibly witty, a very clever knitter and crocheter and totally inspired me to learn sock knitting, thank you so much Sarah for sharing your talents. The Weekender blanket is a great project if...
---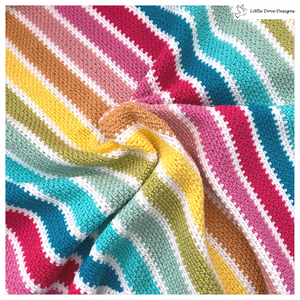 With the crazy British weather this last month I have witnessed quite a few rainbows over our house! One minute it's sunny, the next a downpour which is kinda confusing when you're trying to plan things....like what to wear......but of course the rainbows that are produced with these weather conditions are always something special! A rainbow inspired blanket has been long overdue so I've really enjoyed making this one. I do agonise quite a lot over rainbow combos, there are lots of different routes to go down.....bright, pastel, muted, vintage etc, and I can spend ages with yarn pegs working...
---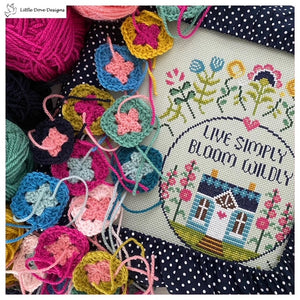 Colour inspiration is everywhere, I'm always seeing colour inspiration and my phone is full of photos of random things just because I liked the colours! Sometimes it's right under our nose and whilst designing my latest cross stitch pattern 'Bloom Wildly' it occurred to me how well the thread colours I used could be applied to granny squares........I had a vision in my mind of a vintage style random granny square blanket so I set about matching the thread colours to yarn and came up with my Rosa combo - I chose 'Rosa' as I love roses and they are...