Little Dove Colour Combos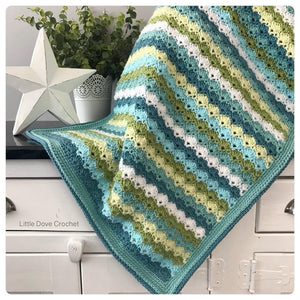 I made this blanket quite some time ago. I'm always really drawn to blues and greens, particularly greens as green is my favourite colour! To be honest I've had a bit of a job remembering which colours I used as it was so long ago I made this one! After lots of playing with yarn pegs and shade cards and studying my photos I'm 99% sure I used........  Cygnet DK  Kiwi Paintbox DK  Washed Teal Scheepjes Colour Crafter  Leiden Weert Alphen Urk Once again I used Attic24s Dune pattern for this blanket. I love this seashell inspired pattern and...
---
• crochet • crochet blanket • dune blanket • rainbow blanket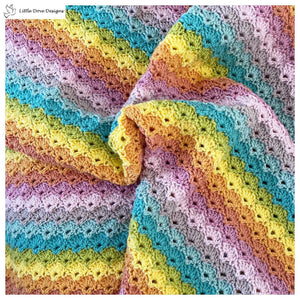 This colour combo was put together by my daughter Connie hence the name! She wanted to come up with a muted pastel style rainbow and I think she succeeded :) These are the colours she chose…. Hayfield Bonus DK Lagoon Blue Stylecraft Special DK Powder Pink Mushroom Paintbox DK Melon Sorbet Vintage Pink Scheepjes Colour Crafter Goes Venlo Delfzijl Weert I'm not sure what the yellow is, it was an odd ball I had with no ball band but I think it is Paintbox DK in Daffodil I used Attic24's Dune pattern for my blanket, it works really well with...
---
  If you've followed me for a while you'll know I'm quite fond of an Orla Kiely mug! This colour combo was very much inspired by my Orla obsession so naturally it has to be called Orla! I'm also rather fond of the African flower motif :) For this African flower blanket I have used Scheepjes Colour Crafter in the following shades Barneveld (joining colour) Alphen Goes Vlissingen Coevorden Nijmegen Verviers Arnhem and Paintbox DK in Vintage Pink I worked on this blanket on and off for three years (these things can't be rushed!!) and didn't make any note of...
---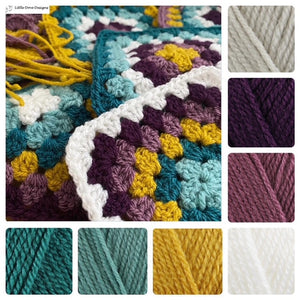 Charlie is quite a bold colour combo! Greeny blues and purples with a pop of mustard yellow! A good gender neutral scheme too I think :) I used the following shades of Scheepjes Colour Crafter Weert Spa Hoorn Coevorden Dordrecht Verviers and Hayfield Bonus DK in......... Lagoon Blue I made 6-round granny squares with this combo (Verviers was my joining colour) but I think these shades would make a lovely stripey ripple too! If you'd like to know how to make a granny square the Little Dove way you can find my video tutorial on my You Tube channel here...
---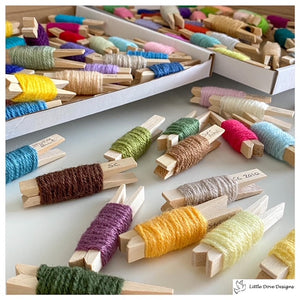 The thing I get asked most frequently is to share my colour combos so after much pondering about how best to do it I'm excited to start sharing them here on my blog. I've spent quite a long time working out how best to share them in a clear and helpful way and have decided to give them 'human' names as a way of differentiating between them. I really hope you find them inspiring and would love to see how you use them. You can share your creations with me by using the hashtag #littledovecolourcombo on social media! All my...