Little Dove Crochet Blogs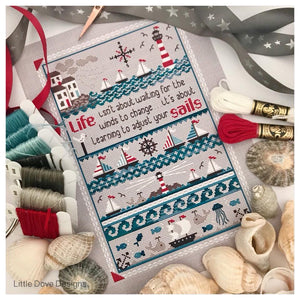 It's been ages since I last blogged! A lot has happened in the last few months and it has provoked a few small changes in my business. Before I talk about the changes I'll give you some background..... Before I had my daughter in 2011 I just ran the cross stitch side of my business alongside my day job at a building society. When my daughter was born the cross stitch side took a bit of a back seat, I didn't release any new designs for around three years and I re-discovered my love for crochet and it unexpectedly turned...
---
You'll have to bear with me on this one. It's been three years since I made this blanket and I'm really hoping I've remembered the colours right!  This blanket was another one of those makes that I worked on in between orders to satisfy my creative urge. When you are making the same things over and over I find it good to have an in between project on the go that I've chosen myself just to keep things interesting. I'm often asked how long it takes me to make a blanket. Difficult one to answer because there are many variables...
---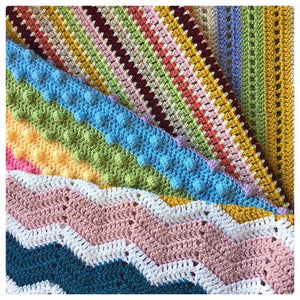 A little while back I gave you a sneaky peek of some blanket patterns I have put together for Cygnet Yarns. I've been meaning to write this blog post for weeks as the Ebook containing the four patterns came out a couple of months ago! I've finally found time on the first day of the new year to sit down and do the blog post! As I mentioned in my previous blog post about these blankets I discovered that I have a love/hate relationship with designing/writing patterns and have since concluded that it is not for me and have turned...
---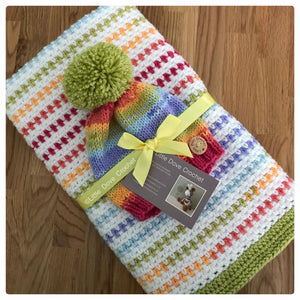 I'm lucky enough to now have an independent yarn shop close by called The Thrifty Thistle, 20 minutes walk away in fact! It's a double edge sword really.......close enough to buy yarn easily and well, close enough to buy yarn a bit too easily!!  Anyways I was in that happy place one morning and couldn't resist buying a ball of Stylecraft Merry Go Round in Pastel Rainbow. The trouble though with this type of variegated yarn is that it lures you in with its beautiful colours and then when you try and crochet it into something it can end up...
---
Earlier this year I was asked by a yarn company to design four blankets using their yarn. I had to think really long and hard about it because it's not something I've ever particularly wanted to do, not really a route I wanted to go down and to tell you the truth I didn't feel that confident I could do it and most of us tend to avoid stuff we're not confident with! After a lot of pondering I decided to give myself a chance, challenge myself, and have a go. What's the worst that could happen!? If nothing else...