Little Dove Colour Combos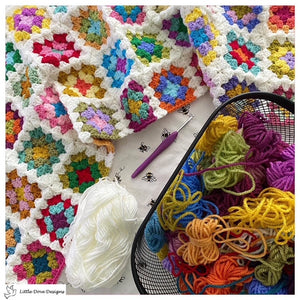 Since 2012 when I started Little Dove Crochet I have accumulated a lot of yarn scraps (small balls of yarn left over from full balls) When I say a lot, I really do mean a lot! I was very productive over the many years I was making to order so I got through a lot of yarn which resulted in lots of scraps. I just kept shoving them in bags over the years not really knowing what I was going to do with them but knowing that one day I would do something with them!  Fast forward to 2022 and...
---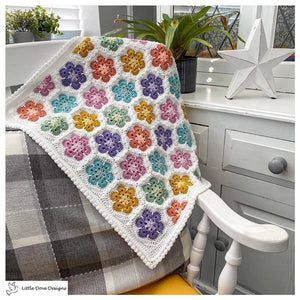 I have been asked so many times about the colour combo for this African flower blanket! Trouble is I was stashbusting at the time and didn't think I'd written the colours down anywhere so couldn't remember exactly what I'd used. The good news is that I happened to be scrolling through my social media posts recently looking for something else when I found a post about this blanket from 24th April 2021 detailing all the colours! Yay! It's quite a mix because as I said I was stashbusting and was using small bits of leftover or part balls of yarn....
---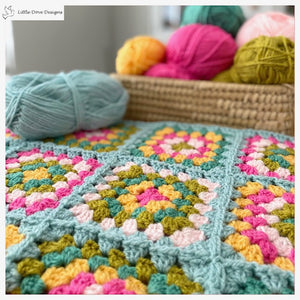 Spring.....the time of year when everything starts to renew and grow. The days start to get longer and it starts to get warmer. I love spring flowers, daffodils are my favourite, closely followed by tulips and this colour combo is very much inspired by the yellows and pinks these flowers bring. The green shades remind me of their leaves and I chose to join with a light blue shade as it reminds me of the Spring skies...........I also quite like to join in something other than white or cream every now and then! Avril seemed a fitting name for this...
---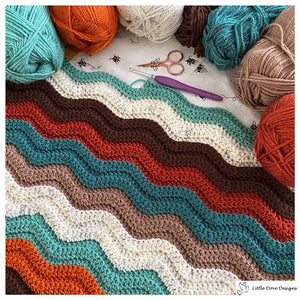 I love orange! I have used it in blankets often over the years. It's such an underrated colour which is a shame as it's so versatile! I love nature too and get a huge amount of inspiration from it for both my cross stitch designs and my crochet. Woodland themes always appeal to me, it's the earthy colours, green in particular as it's my favourite colour and green paired with orange just really sings to me :) I don't very often use brown shades though! I don't know why, I think I always worry that they will dull a combo...
---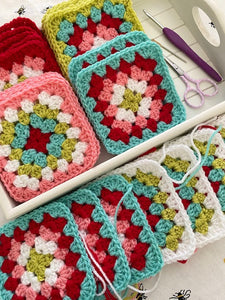 There's a bit of a back story to this combination! Back in 2021 I wanted to make a festive colour combo granny square blanket but not in the traditional reds and greens. I saw a lovely Christmassy illustration that included more unusual festive colours, matched the colours to my yarn stash and made some squares but as I made more it just wasn't saying Christmas to me so the squares got put away in my WIP box while I went back to the drawing board. I did come up with something that suited what I had in mind and that...