Little Dove Colour Combos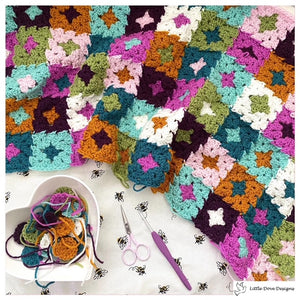 If you've followed me for a while you'll know I favour bright, bold colour schemes! I do use pastels from time to time but I'm not really a big fan.  This combo is inspired by the bold prints of the seventies, I wanted it to have a retro feel, bright and maybe a bit clashing! It had to be granny squares too! This time though I only used two colours in each of the grannies, one round in one colour and two rounds in a contrast colour, it gives the effect of little crosses.  I made 144 little squares for...
---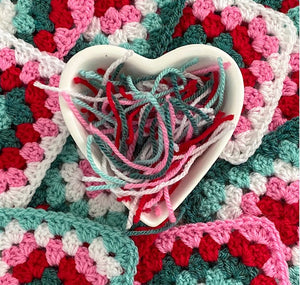 I actually started this blanket back in the Autumn of 2021 but as with many new starts it got cast aside while I worked on other things! I'm really trying hard to finish a few of my WIPs before the end of this year so out it came again and now it's done i can obviously reward myself with a new start haha!  I wanted this blanket to have a christmassy feel but not made with the traditional Christmas colours so inspired by some images of Christmas candy canes and peppermint swirls I came up with this combo which with...
---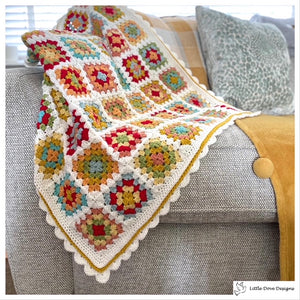 I had a real love/hate relationship with this combo at first, I'd been inspired by a quilt I'd seen and the colours looked beautiful together but when I started making the squares something just didn't feel right. I swapped a couple of colours out and that helped but I still didn't 'feel' it, so much so that it almost got cast aside forever! I pulled it out of my WIP box one afternoon though and once I'd finished making the squares and starting joining them I really started to love it! Sometimes joining is the magic ingredient that can really...
---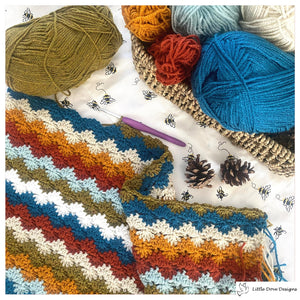 Autumn is my most favourite time of the year! I love everything about Autumn, the cooler days, cosy nights in, knitting by the fire and above all I love the earthy, rich colours! Autumn also seems to be the time I feel most inspired and I pick up my knitting and crochet again after a bit of a summer crafting drought. I really wanted to make Autumn in a blanket, I wanted it to be striped but wasn't sure on stitch so I took to Pinterest and looked through all my pins and found a few stitches to try. After...
---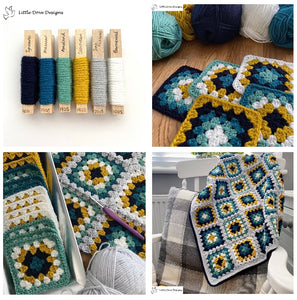 So many people say to me that they find random colour placement difficult so if you are one of those people you may find this method useful!  This baby sized blanket was made up of five round granny squares using five colours. I used the colours in the exact same order for every square but just used a different one of the five to start. You end up with five grannies all different but it's a great way to make them without having to stress over which colour to use next because it is always the same order. If you'd...